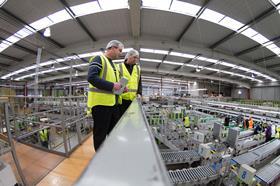 Radfords Software will install its FreshPack system into a central markets environment for the first time under a contract with Australian company, Red Rich Fruits.
The technology will be installed in four key sites: the Sydney Market stand, Eastern Creek distribution centre in New South Wales, and two packhouses at Gandah in Queensland and the Yarra Valley, Victoria.
In stage two, the FreshPack system will be installed at Red Rich Fruits' Darwin facility in the Northern Territory some time next year.
The first stage of installations will be complete by 1 July, and provide leverage for the wholesale markets space.
'The markets floor component requires a slick user interface for fast data entry because, in the market environment, buyers come in and out quickly throughout the day and buy small amounts of produce frequently," said Red Rich Fruits managing director New South Wales, Matt Palise.
'The software will capture this activity accurately and replace the current time-consuming system where operators record information by pen and paper during the day and enter data at the end of the day."
Palise said the investment has been the single-biggest the broader business has made in IT and infrastructure in its 71-year history.
'We wanted a fully live and transparent system that would track stock from the customer right through to grower payments and provide traceability capabilities to equip the business for growth,' he noted.
'Using tablets in the wholesale business means we'll be able to raise sales orders, allocate dockets and stick dockets to products on the way out. It will save us considerable time and free up several people for other responsibilities."
Radfords has also been collaborating with French company, Maf Roda, to install a high-tech grading and sizing machine at the Yarra Valley packhouse.