Australian company takes out fresh fruit and vegetables category for grape traceability pilot
Result Group has been recognised with a global award for its work on the Australian Table Grapes Traceability Pilot.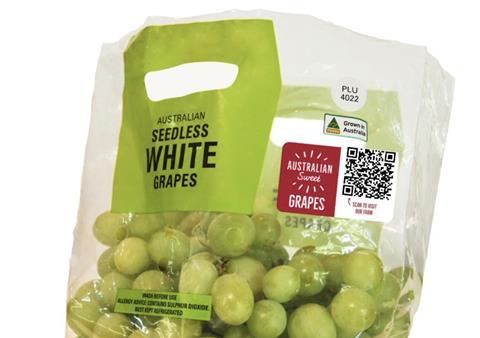 The Melbourne-based company won the fresh fruits and vegetables category at the 2023 WorldStar Awards, presented by the World Packaging Organisation (WPO).
The awards registered 488 entries from 41 countries, growing from 440 entries and 37 countries in 2022.
"These numbers confirm that WorldStar is the most prestigious and important packaging award in the globe," said Soha Atallah, WorldStar coordinator and WPO vice-president of events.
The Australian Table Grapes Traceability Pilot was one of the largest traceability and authentication projects deployed in Australia.
To help grape growers connect with consumers and supply chains, as well as improve consumer safety and quality standards, Result Group developed an industry-customised traceability platform. This was supported by a label printing and management programme, NiceLabel, as well as process automation and scanning technologies, designed to collect end-to-end shipping data.
More than 840,000 units of table grapes, including bunch bags, clamshells, and cartons, were labelled with a unique serialised QR code, further enhanced with the use of GS1 Digital Link standards and exported to over 15 markets in the Asia-Pacific region.
The aim was to sell more Australia table grapes by proving authenticity and provenance.
Michael Dossor, Result Group general manager, said the pilot's success was the result of collaboration.
"Winning the award is very humbling and a great recognition for our hard-working and dedicated team," Dossor explained.
"Collaboration with current system vendors and developing interoperable protocols is always a challenge and requires trust and respect. The upside, it opens up new opportunities in the traceability sector, as we continue to strive to further innovative solutions in the Australian market.
"We couldn't have done it without our partners, the Australian Table Grape Association, Agriculture Victoria, Perfection Fresh Australia, and GS1 Australia, so this is a joint triumph."
Packages eligible for WorldStar Awards are those that already received a national or regional packaging award from a packaging competition recognised by WPO during the last 24 months.
Result Group was awarded Silver in the 'Outside of the Box Design' category at the 2022 (AIP) Australasian Packaging Innovation & Design (PIDA) Awards, thereby qualifying for the WorldStar Awards.
Read more about the pilot and Result Group in the upcoming Autumn edition of Produce Plus and Asiafruit March.