Miniature apple brand expects strong New Zealand crop despite the impact of Cyclone Gabrielle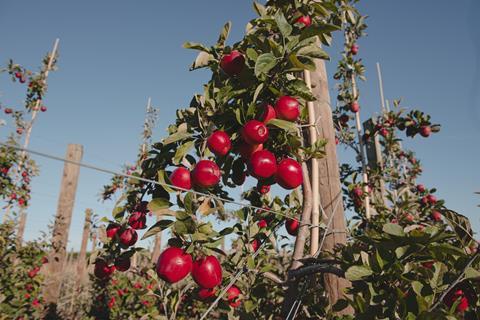 Rockit is expecting to deliver its biggest season yet, with record export volumes expected in 2023 and a new global marketing campaign kicking off in April.
The New Zealand-headquartered miniature apple brand has forecast strong crop despite the impact of Cyclone Gabrielle, which hit key growing regions of Hawke's Bay and Gisborne in February.
Rockit Global chief executive Mark O'Donnell said even before Cyclone Gabrielle, Rockit was looking at a difficult season due to record early season rainfall.
"The cyclone then threw up new concerns but, with a concerted effort by hundreds of workers from mid-February, we were able to get apples off the trees and packed ready for export to Rockit into the 2023 season strong. We are so pleased and relieved that all our employees and RSE workers made it safely through the cyclone, and we are supporting a number of colleagues whose homes were damaged or destroyed," said O'Donnell.
"Well over half of our orchards are fully operational, with another quarter able to be partially harvested. We moved into orchards where we could safely recommence work, enhancing our health and safety protocols to address the unique cyclone related risks, enabling our stellar teams to meet the demands of this very different season.
"We had excellent support from our transport operators and other contractors to enable us to complete the harvest in record time. This has meant some of the best quality results that we have ever seen in the history of Rockit. This is a great result for our growers and orchard investors in a challenging time."
O'Donnell said the company's global headquarters – Te Ipu in Hastings – was in full swing and the packhouse team processed a record 10.3m apples in the first two weeks of packing.
"We've nearly doubled the volume packed at the same time last year. And our network of suppliers and transport providers are all up and running, including shipping out of Napier port," he said.
While the destruction caused by Gabrielle meant Rockit's harvest volumes were down on forecast, O'Donnell said they are above last year's, with a record number of apples leaving New Zealand shores for markets such as China, North America and the Middle East.
"We're still seeing very strong demand from our global markets and we have new customers lining up too. That means we're taking extra care to maximise the value of this season's crop as fruit quality is something we take great pride in at Rockit."
Rockit general manager global marketing, Julian Smith said to capture that strong demand, Rockit is launching a new global campaign in April around its unique story and engaging attitude, Ready. Set. Rockit.
"We've been really inspired by the effort that has gone in post-cyclone across the entire business to deliver a world leading campaign that will ensure our product will reach millions of new consumers. Ready. Set. Rockit. will appear in thousands of stores and aligns with our drive and ambition to become the world's most-loved apple brand," said Smith.
"Ready. Set. Rockit. is our biggest campaign yet that will be translated into multiple languages and localised with hundreds of stories featured across WeChat, TikTok and Instagram and a global omnichannel retail approach. This sets Rockit apart in a market where a strong brand stands out for consumers looking for a healthy choice, and a product that is relevant to their lifestyle."