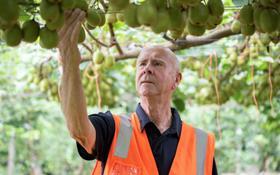 Respected kiwifruit breeder and scientist at Plant & Food Research New Zealand, Russel Lowe, has announced his retirement.
After almost 50 years selecting, observing, propagating and tasting kiwifruit at Plant and Food Research, Lowe said he has a new role that will allow him to call into work a couple of days a week to keep an eye on promising kiwifruit varieties that are in development.
Earlier in the year Lowe was recognised for his role in developing Zespri's Gold3 (SunGold) kiwifruit. He is credited with helping develop both Hort 16A, New Zealand's first export gold kiwifruit and SunGold, the fruit it was replaced with when the disease PSA hit.
Lowe joined Radio New Zealand to share stories from his fifty-year career.