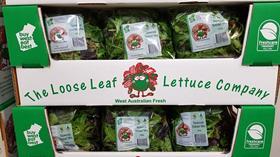 Salad items sold under the branding Loose Leaf Lettuce Co, Supreme Salads, Fresh Frontier and Quality Produce International have been recalled in Western Australia following the confirmation of a salmonella contamination.
Products included in the recall were The Loose Leaf Lettuce Co's 'Asian Salad Mix' and 'Special Salad Mix' 200g packets, with best-before dates from 21 to 28 March.
These items were sold at various independent retailers and IGA stores across Western Australia
According to a statement from the company, the positive result for salmonella contamination was discovered during a routine test.
"As a precaution, we are recalling all Special Salad Mix and products with any of the same ingredients (Asian Salad Mix, Tatsoi, Mizuna and Swiss Chard) with a best before date between March 21 and 28 inclusive," The Loose Leaf Lettuce Co's statement read.
A range of items from other brands were also recalled as a precautionary measure, including Quality Produce's Asian vegetable mix, mizuna lettuce, special mix and swiss chard.
Fresh Frontier recalled its foodies choice gourmet Greek salad with quinoa and kale, with use by dates of 23, 24 and 25 March, sold at IGA, Farmer Jacks, Gilberts Fresh, Rawsters and SUPA IGA in the state.
Supreme Salads has recalled items including its garden salad, supreme salad, and Greek salad range.
A statement from Supreme Salads said due to a supplier notifying it of a contamination problem with supplied salad mix, the firm decided to recall all products as a precaution.
Meanwhile, Australia and Singapore has agreed to work together on food safety and standards.
Prime Minister, Scott Morrison, and Lee Hsien Loong, Prime Minister of Singapore, welcomed the signing of a Memorandum of Understanding between Food Standards Australia New Zealand (FSANZ), Enterprise Singapore and Singapore Food Agency to promote cooperation in food safety and standards.
The move will explore new areas of cooperation, including novel foods and alternative proteins.