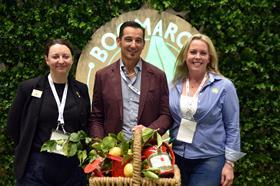 An innovative project is set to foster closer links between school students and the horticulture industry.
Unveiled at last week's Hort Connections trade show in Melbourne, the Schools-on-Farms programme is joint initiative between Ausveg Vic, Boomaroo Nurseries and the Stephanie Alexander Garden Foundation.
As its name suggests, the programme will facilitate school visits to operating vegetable farms, providing students with a deeper understanding and appreciation of the production process from seed to harvest.
Drawing on the Stephanie Alexander Garden Foundation's experience running its highly successful Kitchen Garden Program, the farm excursions will be fully integrated into the school curriculum, meaning they will be used as a focal point for classroom projects.
A pilot version of the programme involving primary schools on Victoria's Mornington Peninsula and leading local growers Gazzola Farms, Corrigan's Farm Produce and Taranto Farms is set to get underway later this year.
"Kids will have the opportunity to see, smell and taste growing vegetables," said Paul Gazzola, president of Ausveg Vic and director of Gazzola Farms.
"They will witness planting, growing, harvesting, packing and distribution in action, while chatting and forming relationships with their local farmers.
"As it currently stands, our industry doesn't have a lot of exposure, but if we can encourage kids to be excited about fresh produce then we're onto a winner."
Read more about the Schools-on-Farms programme in the upcoming Spring edition of Produce Plus.