Net profit falls as New Zealand company grapples with labour shortages, shipping disruptions and lower kiwifruit yields
Listed New Zealand produce company Seeka has posted a net profit (after tax) of NZ$6.5m for the 2022 calendar year (12 months to 31 December).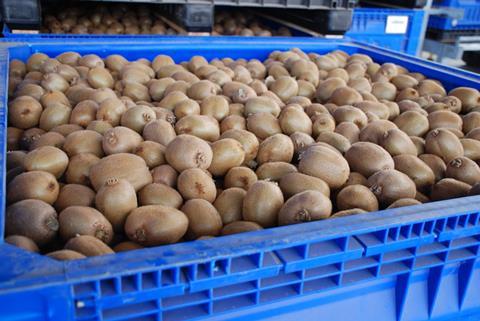 The performance was down 56 per cent on the NZ$14.9m net profit it reported in 2021.
Seeka chief executive, Michael Franks, said it was a challenging year for the company, particularly in its core kiwifruit category.
"Seeka and its supplying growers experienced a very difficult year with Covid-19, extreme labour shortages, shipping disruptions, lower kiwifruit yields and poor fruit quality all impacting returns," said Seeka chief executive Michael Franks.
"Harvest 2022 kiwifruit yields were down across the industry, impacting revenues from Seeka's core post harvest business. Kiwifruit storage performance, both onshore and offshore, further impacted returns to Seeka's orchard operations."
Seeka's ability to attract new growers to its post-harvest business saw its revenue grow to NZ$348m in 2022, up 13 per cent from NZ$310m in 2021.
"Packing operations, however, peaked during the Omicron wave and the industry was severely short staffed," explained Franks. "Higher labour costs and lower yields impacted margins and contributed to a drop in EBITDA to NZ$46m (down 19 per cent on 2021's NZ$56.8m)."
Franks said Seeka has reviewed its supply chain operations ­since the 2022 harvest and is focussed on achieving excellence in fruit handling in 2023.
"We are anticipating an improved labour supply with a large increase in RSE workers from the Pacific and Malaysia, and a normalisation of travel," he explained.
"The completion of a highly automated packline in the Bay of Plenty, and automation projects in both Gisborne and Oakside, will lift Seeka's packing capacity, improve fruit handling and significantly reduce the demand for packhouse labour."
Earlier this week, Seeka announced its Gisborne packhouse was back up and running following Cyclone Gabrielle.
Franks said Seeka's core Bay of Plenty kiwifruit growing region was spared the worst of the weather and was not materially impacted.
However, its operations in the Hawke's Bay, Coromandel and Kerikeri regions had experienced varying degrees of damage, with Hawke's Bay being impacted the most.
Approximately 5 per cent of Seeka's kiwifruit supply is grown in the Hawke's Bay region.
"We have been inspecting our post-harvest sites and supplying orchards, to assess the potential impact on harvest 2023," Franks said. "While we did not see any significant damage to our post-harvest facilities, we anticipate that the full impact on the crops will remain unknown until the fruit is harvested. We will continue to assess the situation and will update the market if Seeka identifies a material loss."
The Seeka board has determined that no dividend will be paid to shareholders at this point, with the company focused on "prudent financial ratios".