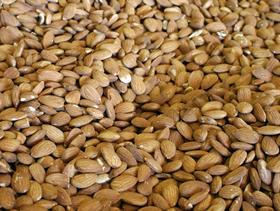 Select Harvests has announced plans to expand its Carina West processing facility in north-west Victoria.
The move comes after the Australian almond company undertook a strategic review of the growth options and supply chain solutions for its food division.
"The decision has been made to restructure the food division to focus on Select Harvests' competitive advantage in growing, value adding and marketing almonds in the domestic and export markets by expanding the Carina West facility," Select Harvests said in a statement issued via the Australian Securities Exchange (ASX).
The strategic review considered a number of options, including upgrading the company's existing Thomastown facility on the fringes of Melbourne; developing a new production facility; outsourcing value-added production or investing in the Carina West facility; and moving more value-added almond processing from Thomastown to Carina West.
"The strategic review found that the Thomastown facility is not core for our future supply chain requirements and our strategic focus is best directed to investing in our Carina West processing facility where we value-add and market our almonds for sale in domestic and export markets," said Paul Thompson, managing director of Select Harvests.
Select Harvests has begun work on a progressive 18-month transition plan to move more almond processing from Thomastown to Carina West.
This company said this would result in additional jobs, a larger production capacity, new technology and new warehousing facilities.
The Carina West site will remain an almond only facility to avoid allergen contamination.
"We are focussed on delivering the best long-term return for our business and outstanding customer service to our customers," Thompson explained. "The expansion of the Carina West facility will create a supply chain that enables us to strengthen our competitive advantages in growing, value adding and marketing almonds in the domestic and export markets."