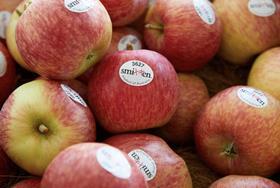 Montague will showcase Smitten apples at the upcoming Melbourne Food and Wine Festival.
The family-owned fresh produce company will host a pop-up stall at the festival's Longest Brunch event on 26 March, with Smitten to be one of several apple varieties on display.
A blend of Gala, Braeburn, Falstaff and Fiesta varieties,Smitten has developed a loyal customer base in the Australian market over the past four seasons.
The 2022 campaign is already underway, with Smitten apples arriving in Coles supermarkets across Australia from 24 February.
With 980 tonnes of Australian-grown Smitten expected this year, up from 780 tonnes in 2021, Montague is confident the apple's popularity will continue to grow – so much so that Coles is expecting supplies to sell out by early April.
"Smitten is a summer apple that seasonal consumers really enjoy picking up early in the year,"said Montague managing director Scott Montague. "Its dense, yellow-cream coloured flesh is sweet with low acidity, juicy and maintains its crunch longer than any apple."
Smitten is currently grown in Victoria, Tasmania and Queensland.