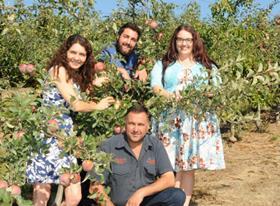 A number of fresh produce companies were recognised at the South Australian Premier's Food and Beverage Industry Awards last Friday (12 November).
Presented by Food South Australia, with funding support from the South Australian government, the awards programme celebrated excellence, leadership, vision and innovation within the food and beverage sector.
Fruit juice producer Ashton Valley Fresh took home the Business Excellence Award for businesses with up to 15 FTEs (full time employees). Ashton Valley Fresh also won the Innovation in Food or Beverage Award.
Vertically integratedproduce business Zerella Fresh won the Innovation in Business Award (businesses with more than 15 FTEs). Zerella's Renee Pye also took home the Next Generation Award.
The Costa Citrus team was presented with the Education and Training Award, while Ceravolo Orchards won the Sustainability Award (businesses with more than 15 FTEs).
The theme for this year's awards was 'Turning the Page', which resonated with both industry and the government, according to South Australian Premier Steven Marshall.
"There are exciting chapters still to be written by the winning businesses and the state government is proud to partner with Food South Australia to present these awards each year," Marshall said.
"The record levels of engagement with this year's awards is a sign of just how determined and resourceful these businesses are in the face of challenges such as Covid-19. I congratulate all the winners on their achievements."