First phase of state-of-the-art apple packhouse is complete helping T&G manage increased volume growth and lift productivity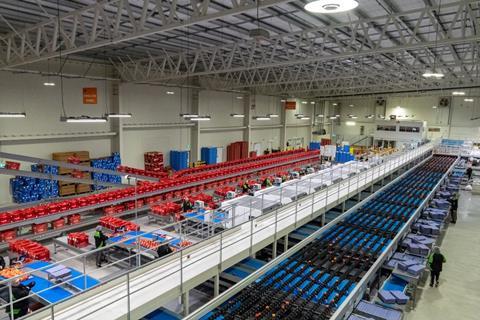 T&G Global has opened its new state-of-the-art, highly automated apple packhouse in Hawke's Bay, New Zealand, one of the largest in the Southern Hemisphere.
The NZ$100m facility has 1.7ha of roof space and will be able to pack more than 125,000 tonnes of apples per season once its two phased-construction is complete – twice the volume of apples currently packed.
T&G Global chief executive, Gareth Edgecombe said the world-class packhouse has been built to help meet future global consumer demand for premium apples from New Zealand and the completion of the facility and the installation of the first 220m packing line was a testament to the T&G team.
"This state-of-the-art post-harvest facility will be instrumental in enabling us to manage increased volume growth, lift productivity and ensure our fruit arrives in market in an excellent condition," said Gareth.
"The packhouse, which cost close to NZ$100m is being commissioned in two phases and integrates leading automation and technology, from the wet infeed area and defect sorting, to soft fruit handling technology and robotic fruit packers and palletisers, enabling us to do more with less.
"It's been a remarkable team effort to build the packhouse and deliver it on budget and on time, while dealing with labour and material constraints during Covid-19. The new facility will enable our Whakatū team to pack 90-100 bins per hour on the one line, lifting the productivity rate up to 1 bin per person per hour. When the second line is installed, we'll be able to pack up to 190 bins per hour, with a similar number of people."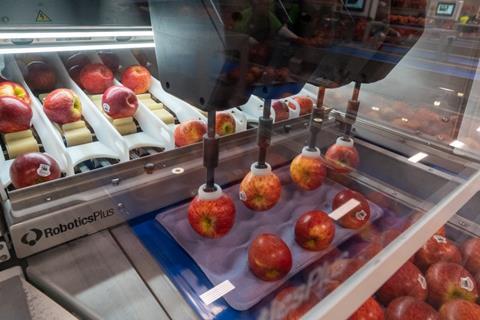 Edgecombe said the packhouse would play a key role in helping create increased value from New Zealand's unique benefits and intellectual property.
"Over the last five years, T&G has redeveloped hundreds of hectares into modern 2D growing systems, with increased plantings of our premium Envy brand, which is on track to be a billion-dollar brand by 2027. Many of our independent grower partners have done the same. By building this packhouse we can accommodate this increased volume and help support the domestic and export growth of the region, sector and nation," said Edgecombe.
As part of T&G's kaitiakitanga strategy and commitment, the packhouse has been designed with demanding sustainability standards to help conserve and protect New Zealand's natural resources. It has 1.2m litre water tanks, enabling the packhouse to absorb large downpours and removing this volume of water from flowing immediately into the public stormwater system.
This allows the company to meter this water out, reducing the impact on the stormwater system and local rivers, and using it for watering onsite trees and vegetation. In addition, the packhouse's filtration system allows for reduced water use from its own bore, with final discharges being drinking quality standard.