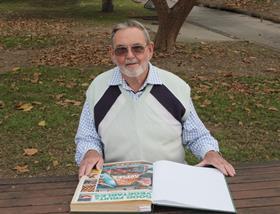 A pioneer in leadership, education and communication has been lost to the Australian horticulture industry, with the unexpected death of Tony Biggs on 17 July.
In his 40 years in Australia, Tony made a significant difference across a range of organisations and industries.
He and his family moved from Kent in the UK, where Tony had been lecturing at Wye College, to Hawkesbury Agricultural College (now University of Western Sydney's Hawkesbury campus) in 1980. He was appointed head of the college's department of horticulture, before becoming principal horticulturist - vegetables with the New South Wales Department of Agriculture in the mid-1980s. He had a big impact at both organisations and their staff.
On arrival in Australia, Tony had observed there was no dedicated national magazine for commercial production horticulture. In 1990, he helped establish and was founding editor of Good Fruit & Vegetables, ably supported by his wife Frances, producing over 200 issues in the next 13 years.
He was an excellent communicator and had a particular flair for translating and editing scientific research and results into every-day language.
In a recent interview with the current editor of Good Fruit & Vegetables, Tony said: "the technical content of the magazine at the outset and throughout my 13 years as editor was based around news and stories on current research from around Australia and overseas, a major detailed monthly business article - Enterprise of the Month; interviews with national and international horticultural personalities, new product information and much, much more. I saw the technical content in being of paramount importance."
Tony travelled extensively across Australia, seeking out stories and profiles in many diverse areas, building a wide network of colleagues and friends in the process. An annual highlight in the magazine were special features covering presentations from the Australian Horticultural Corporation's Marketing Edge conferences, reaching a much wider audience and generating greater interest in marketing. This led to covering both Asiafruit Congress in Hong Kong and Produce Marketing Association's convention and exhibition in the USon a number of occasions.
Concurrently, he was appointed a director of the Horticultural Research & Development Corporation in 1991, one of the forerunners of Hort Innovation, a position he held for nine years. Such was his contribution, he was asked to stay on the board after completing the maximum allowable period of six years.
Through his family company, Cardinal Horticultural Services, Tony undertook a range of other activities, usually in collaboration with Frances. He was the mushroom industry's R&D coordinator, a role that saw him manage the new purpose-built facility at Sydney University. Tony also established the Australian Potato Industry Council, with he and Frances providing the initial secretariat.
Tony's knowledge of greenhouse horticulture and hydroponics in the UK, combined with collaborative research he undertook with Rick Donnan in Australia on the use of rockwool, led to major advances in the technology and its application. He was largely responsible for establishing the Australian Hydroponics Association (now Protected Cropping Australia), again providing the foundation secretariat.
His experience and attention to detail made Tony a natural choice to review a range of horticultural programmes. In addition, he was a significant co-contributor to a number of production and marketing projects in different parts of Australia and across different industries.
Prior to arriving in Australia, Tony had written Vegetables, a practical reference book for gardeners, published by the Royal Horticultural Society. Its on-going popularity resulted in regular updates over succeeding decades.
His prolific writing continued in 1985, when he co-authored Principles of Vegetable Crop Production, published in the UK and distributed internationally.
Volunteering was in Tony's DNA. He was a strong believer in the Australian Society for Horticultural Science, as a founding member and president/co-president from 2000 to 2004. Cardinal Horticultural Services provided the secretariat for the Australian Plant Propagation Association for many years.
Tony would regularly address industry meetings and field days. He also undertook a number of volunteer projects across the Asia-Pacific region, associated with communication and education.
His services and contribution to Australian horticulture were justly recognised in 2004, when he was awarded the prestigious Graham Gregory Medal.