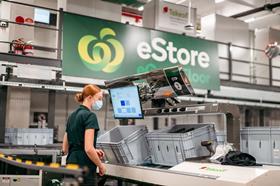 Woolworths has started picking the first online orders for its Sunshine Coast customers from the newly built eCom floor at its Maroochydore (Big Top) supermarket.
The 1,250m2 space at the rear of the store uses cutting-edge micro-fulfilment technology to sort and move products from automated storage units directly to team members hand picking customer orders.
The units can hold up to 10,000 of the most in-demand grocery products, while fresh fruit and vegetables and meat continue to be picked from the shopfloor.
The technology dramatically improves the speed, efficiency, and accuracy of the picking process, and the retailer said it will allow thousands of extra online orders to be delivered to Sunshine Coast customers each week, including more on a same day basis.
Woolworths has appointed around 150 team members to help fulfil orders from the Maroochydore eStore, including 80 new to the business.
Woolworths' director of eCommerce, Annette Karantoni, said the continued growth in online grocery demand has given the retailer an opportunity to reimagine the future of its stores.
"As customer expectations continue to rise, we're investing in cutting-edge technology on the Sunshine Coast to build an even better and more convenient online offer for local customers," she said.
"This technology will help our team of 150 personal shoppers pick orders with greater speed and accuracy, while keeping us close to our Sunshine Coast customers for faster and more flexible deliveries to the home. The new delivery capacity comes at a critical time as more of our customers turn to home delivery through the pandemic.
"Importantly, the eStore layout also helps reduce congestion in the aisles for our in-store customers, as our personal shoppers pick most items in the back of house."
The Maroochydore eStore will service home delivery orders spanning from Coolum Beach to Wurtulla.
Queensland state MP for Maroochydore, Fiona Simpson congratulated the Woolworths team on investing in the upgrade.
"This enhances customers' ability to safely and efficiently shop from home while preserving the choice of shopping in person as well," noted Simpson.