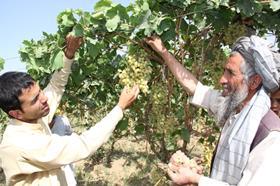 The abrupt change in Afghanistan's government, led by a takeover from the Taliban in August, plunged the country's fresh produce industry into a period of uncertainty.
As exporters searched for solutions to the immediate problems of no flights and the closure of air corridors, there were widespread concerns about what the future of Afghanistan's fresh produce industry would look like under Taliban rule.
Afghanistan's trade was initially suspended, but the formation of the new regime has seen that slowly resume. Export of fresh fruits have begun to increase to cater for the increased volume of production and the need for farmers and exporters to earn a living.
This year, exporters are having to exclusively use land routes to ship their products as there are currently no flights are available.
The new Taliban regime has reiterated its support for Afghan exporters, and it is their determination to boost the economy of Afghanistan through trade, including the export of fresh produce.
Afghan exporters are said to be happy with how the export obstacles are being lifted and importing countries are resolving the documentation and custom issues.
The Afghanistan Chamber of Commerce and Investment (ACCI), along with other official government offices, have officially started work, with exports resuming via land.
In the last two weeks, Mobin Afghan exported 36 tonnes of grapes to India and plans to export more with its refrigerated trucks via land routes.
Mobin Afghan owner, Muhiuddin, said they were looking forward to the peak harvest. "We have a great harvest this year and now with no problems, business is good with the support of ACCI and customs."
A key member of the leadership of the Taliban has reportedly asked investors and businesses to increase their business activities in Afghanistan. He is reported as having said that, when it comes to investment and business, the situation now is the most secure and suitable for trading than it has ever been in Afghanistan.
Taliban officials said they have halved the tax on food ingredients and have also dramatically decreased the tax on other exports and imports of Afghan traders.
The low level of rain experienced during key growing period this year has increased the harvest quantity and quality of fresh fruits available for export form Afghanistan.
Noorullah S/O Khan is another Afghan fresh fruit exporter company that have loaded trucks of grapes ready for export. Other companies are now preparing to export this year's harvest as they ripen, with trade routes becoming clearer and demand from Pakistan and India increasing.