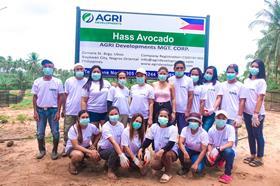 Agri Developments, an alternative asset company specialising in agriculture, has completed its planned expansion into Hass avocado production in Baywan City, Philippines.
The development has been created to meet rapidly growing demand for Hass avocados within the Philippines, as well as regionally across Asia.
Leo van Egeraat, chief executive of Agri Developments, said demand for the fruit has been extraordinary.
"Growth across Asia over the past five years has surpassed 50 per cent annually in certain key markets," he noted. "This is three times faster than in Europe and five times faster than the US, the largest consumer in the world."
The company's first project within the Philippines was centred around mangoes. It then expanded into Hass avocados in early 2021, after noticing what van Egeraat calls "an extreme imbalance in demand and supply across the Asia region."
With Hass avocados a relatively new product in Asia, consumption remains lower compared to the rest of the world. Production is centred in the Americas with the US and Latin American countries such as Mexico, Peru and Chile supplying the bulk of Hass avocados sold in Asia.
"As consumption in Asia rises so will prices as supply pressure in the industry is rampant," noted van Egeraat. "Environmental factors such as droughts and rising costs of production will it make it more challenging for produces located so far to cheap their produce cheaply to Asia"
As for the location, van Egeraat said the Philippines is the only country currently capable of commercially producing Hass avocados in Asia.
"This places it at a competitive advantage enabling it to supply the region at a lower cost as well as faster, due to its strategic location near all key import market," he explained.
Alongside Agri Developments, Dole is the only other company reportedly involved in Hass avocado production in the Philippines however van Egeraat would not be drawn to make comparisons between the two.
Speaking with Asiafruit, van Egeraat said Agri Developments' would target Japan, China and Korea once production hits maturity and there's volume ready for export.
"Japan is without question the largest importer of avocados in Asia with over 75,000 tonnes per year. To put this figure into perspective it is more than all other countries in Asia combined," he concluded.
For more, read Asiafruit's interview with Agri Developments' chief executive, Leo van Egeraat, in the July / August issue.