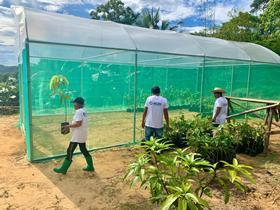 Agri Developments, the private alternative asset company specialising in the agricultural and agribusiness industry, has announced the establishment of their latest R&D initiative within Bayawan City in the Philippines.
The R&D initiative aims to accelerate the growth of AGRI Developments' existing mango operations, support its research into other crops and assist the City in attaining its agricultural objectives.
The initiative is an integral part of the company's mission and encompasses a nursery for plant propagation and laboratory for research and development.
Frans van Egeraat, Agri Developments chief executive said the company's strategy has always been to move up the value chain and into different business verticals.
"Our R&D initiative is just a small step towards what we are trying to accomplish. It provides us with the ability to transplant and expand all our operations at a significantly shorter timeframe than previously," he explained.
Van Egeraat added that the new on-site nursery and lab has already proven beneficial providing Agri Developments with improved stock enabling it to expand its existing mango development earlier than envisioned.
Overseeing the R&D initiative is Elena Taborada, an experienced agriculturist who has worked for the Department of Agriculture, Bayawan City in Negros Oriental for over 26 years.
As an agricultural technician for Bayawan City, Taborada has overseen the Philippine government's efforts to expand production, increase productivity and diversify the region's agricultural production.
She has overseen all operational aspects of agricultural production including technical soil and lab analysis, propagation, land preparation and crop yield optimization. She has developed and supervised the creation of agricultural projects across the entire province covering crops include mangoes, avocados and bananas.
'Elena has a vast amount of experience across multiple key, regional and economically significant agricultural crops which will be of instrumental value for us in the long run," said van Egeraat.
"We are glad to be working together and look forward to strengthening our close relationship with Bayawan City further with our R&D initiative.'