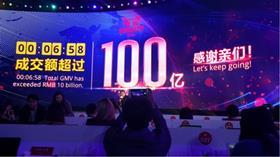 Alibaba marks Singles Day 2016. Photo - Alizila
Fresh produce labels will be among the 60,000 international brands available to more than half-billion Chinese consumers during Alibaba's 11.11 Global Shopping Festival.
The Chinese e-commerce giant offered a glimpse of what's to come for this year's festival by unveiling a string of pre-sales activities yesterday (19 October). The activities will act as a prelude to the November 11 Single's Day celebration – the world's largest single-day retail event ­– and include interactive marketing promotions, "new retail" experiences and the launch of new product offerings.
After introducing a new retail strategy last year, Alibaba said the fusion of online and offline shopping experiences will be further showcased in this year's festival, infusing physical retail elements in social media, interactive content and entertainment.
Initiatives include over 1m merchants, who will use various online and offline integrations to enhance operations and create new consumer experiences. Over 1,000 brands will convert more than 100,000 physical locations into smart stores, featuring a range of new retail experiences, from browsing, shopping tours, virtual fitting rooms, payments and deliveries.
In total, over 140,000 brands will participate in this year's 11.11, offering promotions on more than 15m product listings.
The festival will also move offshore for the first time, with Tmall set to take over 100 Chinese brands overseas, targeting over 100m Chinese consumers residing in other Asian nations and the rest of the world.
Alibaba's logistics network, Cainiao, expects over 3m logistics personnel will assist in handling the packages generated during the 24-hour festival.
The shopping festival began in 2009, with participation from 27 merchants as a way to raise awareness of online shopping. "From those humble beginnings, last year's event saw participation from 100,000 merchants, with consumers spending RMB 120.7bn (USD 17.79bn)," a release from Alibaba said.