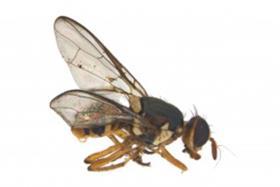 New Zealand biosecurity authorities are on high alert after a second type of fruit fly was found in Auckland within the space of a week.
The Bactrocera facialis (facialis fruit fly) specimen was found in a surveillance trap in the suburb of Otara. The solitary male fly was formally identified on Monday (18 February), with no further facialis fruit flies found to date.
"There is no indication there is an incursion of facialis here," according to a release from Biosecurity New Zealand, a division of the Ministry of Primary Industries (MPI).
The fly is a different species to the Queensland fruit fly (Q-fly) identified last week in Devonport, a suburb about 25km north of Otara.
MPI director general Ray Smith said the facialis fly is native to Tonga, where it has destroyed capsicum and chilli crops but appears to be less harmful to other fruit and vegetables. It is a tropical fruit fly species, meaning New Zealand's climate may not provide an ideal home for it.
Biosecurity New Zealand has declared a controlled area around the location where the facialis fly was trapped.
The restrictions are the same as with the Devonport Q-fly, whereby whole fresh fruit and vegetables (except for leafy vegetables and root vegetables) cannot be moved outside of the A zone of the controlled area. This is the area that extends 200m out from where the fly was found. Homegrown vegetables cannot be moved out of a wider B zone.
'As with the fruit fly in Devonport, we need to determine if it's a lone specimen or if there's a population of these flies in the area," Smith said.
'To do this, we're setting more traps in the area around the find. And while we look for more flies, we have restricted the movement of fruit and vegetables to stop the spread of any other facialis fruit flies that may be out there."
Smith said the separate Otara and Devonport detections are evidence of the value of New Zealand's multi-layered biosecurity system.
'Our border controls are extremely tight and effective and they are backed up by an active surveillance system," he explained. "With these latest 2 detections that system has put us in the best possible position to respond quickly and ensure New Zealand remains free of these pests."