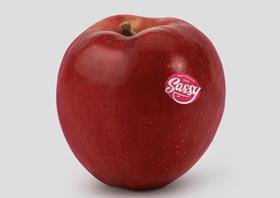 Sassy is the newest branded apple offering to emerge from New Zealand.
Developed by the country's crown research organisation Plant and Food Research (PFR) and commercialised by Prevar New Zealand, Sassy is said to be an early harvesting variety with a long shelf-life. Its parentage consists of Fuji,Scifresh and Sciros.
Next Generation Apples, a collaboration between New Zealand growers Taylors and Golden Bay Fruit, owns the global licensing rights to Sassy and will bring the new variety to market.
A limited volume of New Zealand-grown fruit will be sold in China and Vietnam in 2022, while growers interested in licensing the variety will also have access to samples.
Evan Heywood, chief executive of Next Generation Apples, said Sassy's characteristics would stand out to consumers.
'Sassy is luscious, crunchy, and wrapped with a deep red colour that permeates goodness with every bite,' explained Heywood.
"Its unique conical shape and intense ruby colour give it an edgy personality. It stands-out on the shelf, making it easy for consumers to remember when returning for more. Excellent firmness gives the apple a snappy crunch that lasts months after harvest. This fruit is completely delicious. It's the perfect balance of sweetness and an attitude we call 'zing'."
Sassy is said to have high levels of naturally occurring 'anthocyanin', a flavonoid with antioxidant effects.
"Found in other fruits like blueberries and blackcurrants, anthocyanin is reported to have anti-inflammatory properties," according to a release from Next Generation Apples. "It gives foods their rich colouring, and in this apple can be seen as fine red lines permeating the flesh when cut. This feature intrigued consumers during focus group testing."