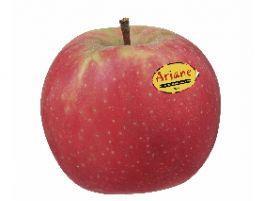 Greater volumes of French Ariane apples will go on sale in Asia this season, thanks to a larger crop available this year.

Grower-shipper Blue Whale says it plans to exceed the 10-container quota it exported to South East Asia last year, thanks to increased yields of this 'new' variety.

New season French Ariane apples are expected to hit European supermarket shelves from 30 September.

The firm says it is excited about Ariane's sales prospects this season, and describes the quality of this year's crop as "excellent".

"I am very positive about the development of sales of this variety this season," Blue Whale's Marc Peyres told Fruitnet. "It is a very attractive fruit."

Picking in south-west France began on 16 September, with packing scheduled to start this week. Ariane is also grown in Provence and the Rhone and Loire Valleys.

Created, developed and grown exclusively in France, Ariane is a sweet bi-coloured red apple first planted commercially in 2002.

The apple, developed by France's national institute of agricultural research (INRA) after 24 years' research, is said to be resistant to apple scab and therefore halves the amount of treatments applied to orchards.