Global industry celebrates coming together again at Asia's premier fresh produce trade show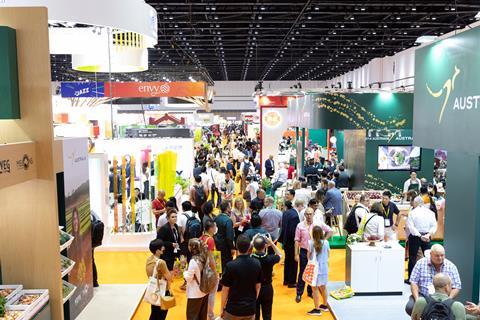 Asia Fruit Logistica succeeded in reuniting the global fresh fruit and vegetable business in Asia last week.
High-level trade visitors from all over the world converged on Bangkok's Queen Sirikit National Convention Center on 2-4 November 2022 for the first in-person edition of Asia Fruit Logistica since 2019.
After a three-year break, exhibitors and visitors seized the opportunity to meet again with customers and colleagues, make new connections and contacts, and gain expert insights on the latest industry trends and innovations.
The trade show floor was buzzing as attendees made the most of getting back to doing business face to face. Many exhibitors reported back-to-back meetings across all three days of the event and remarked on the high quality of buyers and trade visitors coming to their stands.
"We're delighted Asia Fruit Logistica has concluded successfully in Bangkok this year, and we'd like to thank every single person who has taken part," said David Axiotis, managing director of Global Produce Events (HK) Co.
"Feedback from our exhibitors and visitors has been very positive, and it only strengthens our commitment to providing this high-quality, efficient and leading trade platform for Asia's fresh produce business."
Asia Fruit Logistica attracted nearly 10,000 trade visitors from more than 70 countries, according to Global Produce Events. Thailand, India, Malaysia, Vietnam and Australia were the top five countries represented in terms of visitor numbers.
Visitor survey results confirmed the high quality of trade visitors, with 85 per cent of them responsible or closely involved in the purchasing and procurement decision-making process for their companies.
Global offering at exhibition
Visitors were able to take in an exciting array of products and services from all over the world at Asia Fruit Logistica 2022. Some 420 exhibitors from 42 different countries and regions showcased their offerings, and the event featured 18 national or group pavilions.
Australia was the single-largest exhibiting country, with the US, Italy, New Zealand and Thailand making up the top five exhibiting nations.
The vast majority (83 per cent) of trade visitors confirmed a positive to excellent impression of this year's trade show, according to visitor survey results. Some 97 per cent of respondents said they would recommend their colleagues or partners to attend Asia Fruit Logistica 2023.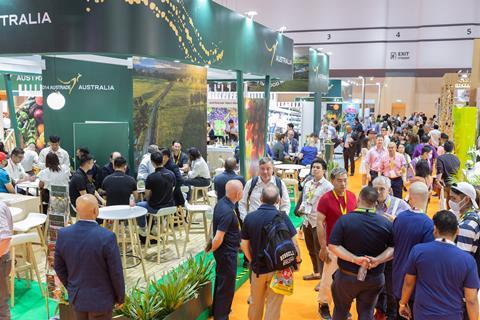 Expert insights at Asiafruit Congress
In addition to the wealth of meeting and business opportunities at Asia Fruit Logistica, visitors enjoyed access to an unrivalled combination of market information and expert insights.
Asiafruit Congress, Asia's premier fresh produce business conference, took place on the expo floor for the first time.
Asiafruit Congress was free to attend for all Asia Fruit Logistica exhibitors and visitors, with sessions running together with Asiafruit Business Forum.
Some 34 high-level speakers from 12 different countries shared their insights on a wide range of key topics, trends and innovations for Asia's fresh produce business.
Asiafruit Congress kicked off with a panel discussion on market diversification in Asia featuring T&G South East Asia's Sam White, Karthik Jayaraman of major Indian agri-tech company WayCool Foods, and managing director of Fresh Fruit-X, Jose Vottero.
Day Two of Asiafruit Congress included lively panel discussions on Asia's tropical fruit trade as well the evolution of global fresh fruit imports to the Asia market.
Investment and sustainability were key themes on Day Three, which included keynote interviews with Frutura CEO David Krause and Dole Sunshine Company's Barbara Guerpillon.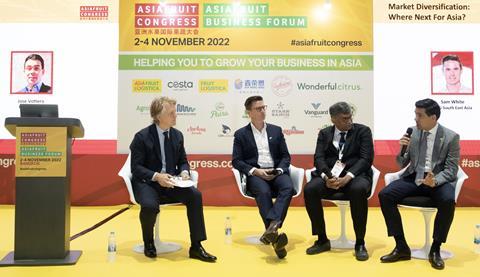 Asiafruit Business Forum featured daily workshops on 'marketing and consumers', 'tech and innovation', and 'logistics'.
Rijk Zwaan's Phuong Oanh Tran, Craig D'Souza of Signify Singapore and Priva's Manuel Madani discussed the future for high-tech farming in Asia. Mark Pay of Rockit Global and Nico van Vliet of Bayer Crop Science delivered inspiring talks on consumer marketing. Luke Wood, CEO of Australian company Escavox, explained how food suppliers can leverage value from real-time supply chain tracking while AgroFresh's Nicholas Sanders discussed a range of solutions to prolong produce shelf-life and cut food waste.
Asia Fruit Award winners announced
The winners of the Asia Fruit Awards 2022 were also announced at Asia Fruit Logistica in a special presentation ceremony at Asiafruit Congress and Asiafruit Business Forum on 3 November.
Presented by Asiafruit Magazine and Asia Fruit Logistica, the Asia Fruit Awards recognise Asia's best companies in produce marketing, importing, and retailing respectively, while the 'Impact Award' honours a person or organisation for making a significant contribution to developing Asia's fresh produce business.
South Africa-based citrus marketer ClemenGold won 'Marketing Campaign of the Year' for its success in building its mandarin brand in China. Major Chinese distributor Goodfarmer took out the 'Importer of the Year'. Thailand's leading wholesale chain Makro was presented with the 'Produce Retailer of the Year' while the 'Impact Award' went to Nick Kukulan and Paramount Export Company.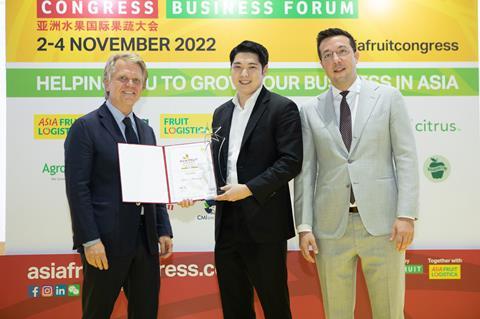 Statistics Handbook launch
Visitors to Asia Fruit Logistica were also able to pick up a free copy of Asiafruit Congress Statistics Handbook 2022, the annual statistical guide to Asia's fresh produce business. Produced by Asiafruit Magazine, the Asiafruit Congress Statistics Handbook provides expert analysis of key trends in trade across 12 different Asian markets. Access a digital copy here.
Asia Fruit Logistica 2022 concluded on a very positive note, with many exhibitors and visitors leaving the show refreshed by the experience of reconnecting in person and enthused by the exciting market opportunities highlighted at the event, according to Global Produce Events.
"Asia Fruit Logistica confirmed its position as the must-attend annual trade show and essential platform for business development in Asia," said the organiser.
STATEMENTS
Visitors
Jason Liu, international procurement manager, Shanghai Shengguo Trading (China)
"We have been really looking forward to these face-to-face communications at the trade show – it's irreplaceable. You can get the intuitive, interactive experience, which is very attractive. I think only face-to-face meetings can deepen our connection with suppliers."
Hai Nguyen, chairman, Klever Fruit (Vietnam)
"It's been fantastic to meet everyone again here after being kept apart by the pandemic for so long. All the exhibitors and visitors we know appreciate the organisers' efforts to hold the event this year as it can't have been easy. We've been able to fit in a lot of meetings and it's helped our business, especially for the upcoming Lunar New Year."
Veerin Graham, president, Navatan World Fruits (Thailand)
"The show has gone well, and it's been great to catch up with everyone after a couple of years. With the event being held in Thailand this year, we've been extremely busy with almost back-to-back meetings during the day and then at night hosting dinners with some of our larger suppliers."
R aymond Mu, senior director of imports, Yonghui Superstores Fresh Supply Chain (China)
"The event is a great opportunity for us to meet our suppliers from all over the world, talk about sales performance over the last few seasons and share some of the latest information about Yonghui."
Exhibitors
Hannes Tauber, head of marketing, Vog (Italy)
"Asia Fruit Logistica gave us the chance to meet long-standing partners and connect with new customers. It enabled us to present new products and concepts, to obtain market insights, and to discuss marketing campaigns."
Konna Mu, director, JWM Asia (China)
"Asia Fruit Logistica has always been an excellent platform for us. We can meet many old friends and update ourselves. We also see new faces and find new products."
Ramón Geli, founder, Greenkeeper Iberia (Spain)
"This is our third year exhibiting at Asia Fruit Logistica and this year has been by far the best in terms of the calibre of visitor we've seen."
Graham Schrieder, global vertical head - fruit & vegetables, Maersk (South Africa)
"It's great to be back with our customers. The voice of the customer is key for us, to be able to sit down and chat to them. At the end of the day, we need to understand where they are. There are challenges in the logistics space, in the ocean space, and we're here to find what their pain points are, what they need, and really find solutions to those pain points."
Risa Narita, deputy manager, Aomori Trading (Japan)
"The visitor numbers are higher than we expected given this is the first show since the pandemic. We're keen to meet people from India and the US, and there are many who have come here, so we can discuss business with them."
Nour Abdrabbo, sales director, Unitec (Italy)
"For us, it's very important to be present here – to create the connection, to be together with our customers, speaking as well, and connecting with consumers in this important region."
Howard Hansen, managing director, Hansen Orchards (Australia)
"It's such a good use of our time exhibiting at this event as we can see everyone here in one place. We'd have to be away travelling for at least three or four weeks to visit all these customers if we couldn't see them here."
Sandar Myo, chairperson, Myanmar Avocado Producer and Exporter Association (Myanmar)
"Participating in Asia Fruit Logistica has been fantastic! We've really enjoyed the conference sessions and networking. There are also a lot of opportunities for marketing and trade promotion and to see the latest technologies, packaging and innovations. We're able to see the changing trends in the Asian industry here and it's been very eye-opening."
Robero Sámano, CEO, Berries Paradise (Mexico)
"It's fantastic to be back seeing customers face to face after a three-year break. Market diversification is a key part of our export strategy and events like Asia Fruit Logistica allow us to make new contacts as well as catch up with existing customers."
Marianella Ubilla, CEO, Agzulasa (Ecuador)
"It's a welcome change to come to Bangkok for Asia Fruit Logistica this year and get to know a new city. Our business in Asia has taken a bit of a hit since the pandemic, so it's more important than ever to be here in person."
Huang Feng, CEO, Ding Fong (Thailand)
"This is our first time exhibiting at Asia Fruit Logistica, and the quality of buyers is really high. We'll definitely be back to exhibit again next year."
Girish Sarda, founder and CEO, Magnus Farm Fresh (India)
"This is our first year as an exhibitor under our new company brand, Magnus Farm Fresh. It was great to meet with our existing customers and new potential buyers for Indian fruit and vegetables. The event was an excellent opportunity for us to revive and build long-lasting business relationships, with concrete interest and confirmed orders for the upcoming season."
Kenneth Wee, director (Asia), Idaho Potato Commission (US)
"This is the first time we've exhibited at Asia Fruit Logistica, and it's been really valuable for us. It's helped us connect with our customers, show our presence, and gauge how much support there is in the industry for Idaho potatoes."
Charl du Bois, commercial executive, Capespan (South Africa)
"Asia Fruit Logistica is well-organised and a good show. It's grown in importance for us and it's certainly one we will not miss. All of our importers are here, and I'm actually surprised by the number of Asian retailers that have attended – that's really positive. There have been a lot of retail buying teams looking for new business and new suppliers."
Sharon Kirk, CEO and director, Southern Fruits International (New Zealand)
"What a great event Asia Fruit Logistica 2022 has been! Thanks to the Asia Fruit Logistica team for creating the opportunity to meet with clients, make new connections, and showcase our wonderful new brands in such a fantastic and inspiring setting. We had a hugely successful show promoting New Zealand cherries and can't wait to see everyone again next year