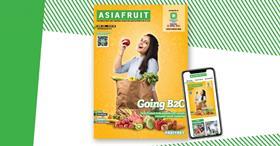 The April edition of Asiafruit Magazine is now available on the Asiafruitapp–on Apple and Android–bringing you the latest news and views from across Asia's fast-moving fresh produce markets.
This edition turns the focus on two global heavyweights – India and the US – with the latest market insights from India in preparation for the upcoming Fresh Produce India event, as well as Asiafruit's annual USA Special.
Fresh Produce India is just around the corner on 22 April and if you haven't registered for FREE you can do so right here.
This edition provides a comprehensive preview of the high-quality programme, breaking down the line-up of expert speakers and their insightful topics.
We also bring you extensive coverage on the latest developments from the Indian market, exploring how the Covid-19 pandemic has disrupted India's fresh produce trade in 2020, but also brought new impetus to consumption and marketing.
Leading international companies such as Rockit Global and Rijk Zwaan explain how they're targeting Indian consumers. We also talk to major domestic companies like Suri Agro Fresh and IG International about exciting new investments in retail development, production and logistics.
After a positive start to 2021, the USA Special provides expert analysis of the challenges facing the country's fresh produce industry in addition to spotlights on key categories such as apples and pears, table grapes, cherries, nuts and citrus.