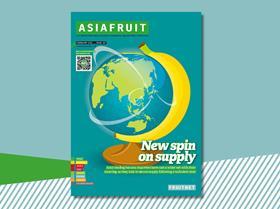 The February 2021 edition of Asiafruit Magazine is now available on the Asiafruit app, bringing you the latest news and views in Asia's fast-moving fresh produce markets.
This edition takes a close look at the region's banana trade and how it has been affected by an extraordinary 2020. Asia's leading importers are diversifying their supply creating opportunities for emerging South-East Asian and Latin American exporters to grow their market share. Meanwhile, while banana heavyweight the Philippines is working to retain its position as the region's major supplier.
Japan is the market focus in this edition. One year on from the onset of Covid-19, leading players in Japan's fruit business detail how the pandemic has shaped the market and share their thoughts on which trends are here to say.
Fresh from accepting the Asia Fruit Award for Importer of the Year, Euro-Atlantic's managing director Ebby Loo also details the moves the Malaysian company has made to navigate Covid-19 and earn its recognition.
Accompanying these features is coverage from Australia, New Zealand, the US, Peru, Mexico and more as fresh fruit and vegetable suppliers from across the globe outline their plans for Asia in 2021.
To access all this content and much more make sure you download the Asiafruit app to your smartphone or tablet from theApp StoreorGoogle Playtoday!