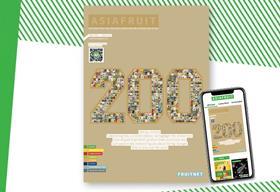 The May edition ofAsiafruit Magazineis now available on theAsiafruitapp–onAppleandAndroid–bringing you the latest news and views from across Asia's fast-moving fresh produce markets.
In this edition, Asiafruit celebrates its 200th issue by taking a look at the evolution of Asia's fresh produce trade since the magazine launched in 1995 and speaking to key industry figures about the big changes they've seen over the past 25 years.
Coverage is certainly not limited to the past two decades either: we feature the rise of Zhengzhou as a hub for China's fruit imports, break down the current trends in the Korean market and bring you the latest developments across key categories including grapes, citrus and US summer fruit.
To mark its 200-issue milestone, Asiafruit turns through its archives to find some of its most notable editions and the stories that made them. Some of the biggest names in Asia's fresh produce business discuss the magazine's role in the growth of the trade, contemplate their own companies' journeys and share their predictions for the future.
Noel Shield, winner of the 2020 Asia Fruit 'Impact' Award, also reflects on his career in the industry spanning more than 30 years working across both retail and supply operations.
Zhengzhou is home to China's largest airfreight port for fresh fruit and it's emerging as a leading logistics hub for the fresh fruit trade. Asiafruit May examines the progress Zhengzhou has made and what lies ahead.
Korea is a key market for a number of global exporters, but its traditional preferences are starting to change as consumers turn to new types of imported fruit. Meanwhile, Korean exporters are working to protect their brand as they navigate logistics challenges.
Finally, if you missed the action at Fresh Produce India 2021 Asiafruit May has a wrap up of the event and all the insights it provided.