A new memorandum of understanding is aimed at building capabilities toward technical market access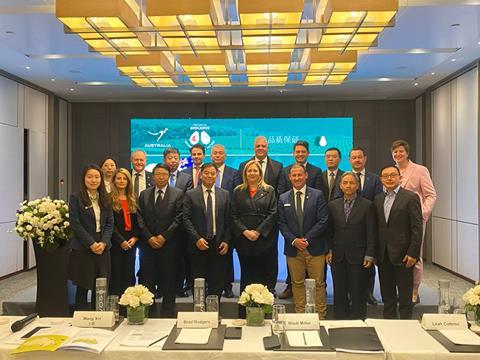 The Australian avocado industry has progressed in its efforts to gain access to China following a new memorandum of understanding (MOU) signed in Beijing.
On Friday 10 November chair of industry body Avocados Australia Brad Rogers and Wang Xin, the president of the China Entry-Exit Inspection and Quarantine Association (CIQA), signed an MOU aimed at building capabilities toward technical market access in a ceremony witnessed by Queensland Premier Annastacia Palaszczuk.
Avocados Australia has made it a priority to increase Australian avocado exports and chief executive John Tyas said the MOU was an important milestone.
"Avocados Australia respects and values our relationships with our important Chinese stakeholders. This ceremony is an important next step in our market access journey," said Tyas.
"I would like to thank Wang Xin for taking part in the signing as we were able to come together and be open about the possibilities of working toward market access for Australian Avocados.
"I would like to thank all of the key stakeholders who have brought us to this point in our market access journey."
CIQA is a not-for-profit organisation focused on the import and export inspection and quarantine sector. It assists with overcoming technical barriers to trade agreements and other technical market access issues.

The MOU brings with it the ability to share market intelligence, the ability to develop frameworks for required R&D that channels into overcoming market access barriers and facilitating information sharing between China's regulatory market access bodies and Avocados Australia.
A number of Chinese importers have already expressed interest according to Avocados Australia and the Australian industry is known for being a reliable supplier of quality avocados. However, technical market access is a critical step and avocados are in line behind a number of other commodities in the negotiations.
Australian production is forecast to increase strongly over the next few years and reach around 170,000 tonnes per annum by 2026, giving the industry a reliable supply with which to service international markets.
India milestone
The Australian avocado industry also celebrated another export milestone in November with Indian authorities confirming a new export protocol.
On Monday 6 November Avocados Australia received confirmation that the protocol for exporting Australian Hass avocados had been approved by India.
Tyas said this was great news for Australian avocado growers looking to export their Hass avocados to India and the industry was excited to move to the next step which involves accrediting growers and packers to the new protocol.
"It is terrific news that Australian avocado growers, once accredited, can export to India. We can now look to growing this exciting new market," said Tyas.