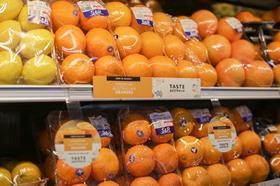 Australia's citrus industry is upbeat as the 2021 season kicks into gear, with production looking promising, the internal quality reportedly exceptional and the external quality benefitting from a relatively still summer.
Notably, production out of Queensland has improved significantly compared to last year, despite ongoing concerns regarding water supply in the Central Burnett region.
Nathan Hancock, chief executive of peak industry body Citrus Australia, said Australia's growers remained upbeat despite the challenges that will inevitably lie ahead.
"I think you'll find growers are generally quite optimistic people," highlighted Hancock. "So, while we are approaching this season with caution, we remain confident it will be positive."
Hancock's reference of caution relates to the unreliability of shipping lines and the fluctuating exchange rate, both of which typified the first 12 months of the pandemic, and look set to be a key theme again.
"If we can manage these two areas, then I think we'll have a great season," he noted. "There is some talk of particular markets experiencing softened demand due to a decrease in buying power, but what we learned through the pandemic last year is that no market is more reliable than the other.
"We were forced to diversify markets last year to spread risk, and that's something we'll continue to look at this year," added Hancock.
China and beyond
Australia's relationship with its biggest trade partner, China, has come under increasing pressure over the previous 12 months.
China, together with Hong Kong, represents more than 30 per cent of Australia's citrus exports and is a market with great potential for continued growth. BGP International managing director, Neil Barker, said China remains a subdued market post-Covid-19 and believes it is unlikely that export potential will be fulfilled this year.
"A reasonable volume of Egyptian citrus has received a lacklustre response [in China] so far, but importers hope demand will improve as China's domestic production slows," said Barker. "BGP's importers are expressing caution about Murcotts and stressing only premium grades will find a market this season.
"There are additional Covid-related tests required, and this is adding to the complexity and delay in clearing containers."
This sentiment is echoed by Valleyfresh director, Ryan Smith, who added: "I am not sure the demand is there [in China]. I think we will have to see how much Egyptian crop is left floating around as we start the Washington navel harvest here to get a better handle on early Chinese demand."
Meanwhile, Barker singled out Vietnam and the Philippines as markets that continue to show promise.
"Vietnam has already placed a Murcott programme larger than last season, and it continues to grow. Orders have exceeded last year's volumes from the Philippines also, so I am quite positive."
This article is an abridged version of the coverage featured in Asiafruit May and Produce Plus Winter. To read more, contact our subscriptions team today: subscriptions@fruitnet.com