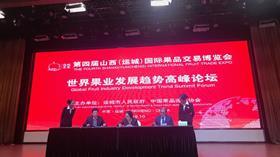 A new memorandum of understanding (MOU) between Chinese quarantine, Yuncheng Fruit Industry Development Centre and Summerfruit Australia should facilitate more trade between the two countries.
The agreement between the China Entry-Exit Inspection and Quarantine Association (CIQA) and the other two bodies was singed at the Fourth Shanxi (Yuncheng) International Fruit Trade Expo in China at the end of October.
The MOU highlighted the opportunities created by the Free Trade Agreement (FTA) between China and Australia, the importance of the fruit trade.
'The three parties are fully aware of the unique opportunities brought about by the conclusion of the FTA between China and Australia, the importance of fruit trade to the development of Sino-Australian trade, and the issue of fruit product quality and safety that commonly concerned by consumers of both China and Australia," a Summerfruit Australia press release said.
'Based on the above understanding, the three parties decided to establish a framework cooperation agreement aiming at promoting cooperation, enhancing communication and exchange between fruit traders of China and Australia and increasing fruit quality and safety of the two sides.'