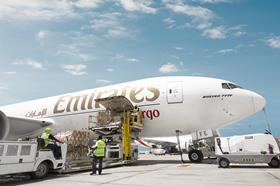 India's decision to ban incoming international flights combined with the decision of many airlines to reduce passenger flights has come as a blow to Indian fresh produce exporters.
Because of the coronavirus (Covid-19) outbreak, India closed its airports to any international passenger aircraft on 22 March, a closure that will remain in place until 29 March at the earliest. Meanwhile, airlines across the world are "fighting for survival", according to the International Air Transport Association.
This has all contributed to significant disruption for Indian fresh fruit and vegetable exporters. According to a report from Business Line, shipments are down by around 25 per cent in recent months as a result.
Sources at the Ministry of Commerce and Industry told Business Line demand hasn't decreased but exporters do not have capability to ship their produce.
"Orders are there, but the exporters are unable to ship because very few flights are operating. Also, there is no adequate cargo space available on passenger flights and wherever space is available, the charges have been hiked," the source said.
Dil Koshy, secretary of Agricultural Products and Processed Food Exporters Association, said the Middle East was one market that had been particularly affected.
The United Arab Emirates has suspended all inbound, outbound and transit passenger flights, airline Emirates will temporary suspend most passenger flights by 25 March and the Qatar government has closed its borders for foreigners.
Koshy told Business Line the shift to smaller capacity, narrow-bodied aircraft from wide-bodied ones due to lower passenger turnouts had impacted exports.
Additionally, exporters could not resort to cargo flights or "freighters" because a lack of incoming cargo made those options economically unviable.