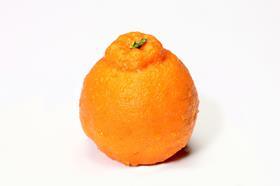 The southern region of Azerbaijan is home to a growing crop of a rare citrus fruit called hallabong which is said to have high economic efficiency and export potential.
In 2017 the country imported 30,600 tonnes of citrus, and alongside this its area of citrus fruit planted almost doubled between 2010 and 2017, with more plantings planned moving forward.
Azer News reported that last year Azerbaijan's president, Ilham Aliyev, signed an order approving the development of citrus production to 2025 in order to meet domestic demand and encourage exports.
The hallabong variety originates in Japan and is grown in Japan, Korea, the US, Brazil, and Azerbaijan where it was first planted in 2015. It's favoured by locals for its high demand, high returns and high productivity.
The fruit is characterised by its large size and weight at 350-400g, and is reportedly two to three times more productive than local citrus fruit.
Its unique harvest window which is around late December to late January extends the country's typical harvest period which runs from October-November. There are currently around 100ha of plantings in the southern Lankaran region which is characterised by its subtropical climate, ideal for growing citrus.