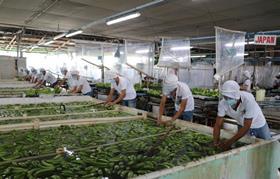 The Pilipino Banana Growers and Exporters Association (PBGEA) said it expects the country's banana output in 2021 to match last year's as challenges persist.
According to a report from the Manila Times, PBGEA chairman Alberto Bacani said the industry had not experienced any growth this year.
"For this year, it should be the same as last year. There's no new big expansion," Bacani said at a virtual press briefing.
"Sad to say, a lot of the big banana multinational companies, instead of expanding in the Philippines, have decided to invest in Latin American countries such as Panama."
In 2020 the Philippines exported US$1.6bn, down from US$1.9bn in 2019. Production also declined from 207.8m boxes (13.5kg) in 2018 and 195.5m boxes in 2019 to 162.2m boxes in 2020.
Panama Disease continues to provide a major hurdle for the industry and the impacts of the Covid-19 pandemic - which restricted access to plantations and caused logistics delays – have persisted in 2020.
Bacani said there was also increasing competition in the Philippines' key export markets such as China.
"There is downward price pressure in China because countries like Cambodia and Vietnam have been increasing their banana exports to China," said Bacani.
"Their bananas are much cheaper because they are near the market. [As a result] there is now an oversupply of bananas in China. That is another threat to the Philippine Cavendish banana industry."