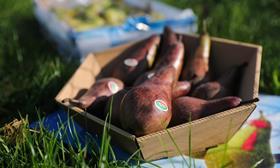 Dole and Belgian Fruit Valley (BFV) will be hoping to tap into the strong market demand it experiences from Chinese consumers for its green conference pears, when it introduces its newly minted Belgian red conference pear at the fourth China International Import Expo (CIIE) this week (5-11 November).
Green conference pears have become a sought-after item among many Chinese consumers since their arrival in the market 10 years ago. Data from Dole shows since 2011, an estimated 35,000 tonnes of Truval conference pears from BFV have been imported into the Chinese market.
'The red conference pear is the latest variety of conference pears we cultivated, and this year is the first season of its harvest,' said Marc Evrard, commercial director of BFV.
The introduction of the new fruit to the Chinese market in its first year of life also shows BFV's confidence in the market. According to Evrard, green conference pears have arrived in 35 cities in China over the past decade.
'Now we are the biggest exporter of Western-style pears in the Chinese market,' Evrard said.
BFV expects a 300 per cent increase in sales of Belgian conference pears on the Chinese market over the next five years, he added.
As many multinational companies do with new products, BFV and Dole chose to debut the red conference pear at the 4th CIIE, a large-scale national expo with the theme of imports.
'We have brought Belgian green conference pears to the first three CIIEs, and they have been highly appreciated by many buyers,' said Vivian Wang, brand director of Dole China.
Wang said that according to customs data in 2020, conference pears imported by Dole accounted for 44 per cent of China's annual pear imports.
Evrard said he believes red conference pears, with their more delicate fragrance and texture, will also gain popularity among Chinese consumers.
The first container of Belgian red conference pears has arrived in Shanghai, with a series of tasting activities lined up to promote the fruit to Chinese consumers.