Bigbucks Gala-type apple gains momentum as reports surface of clandestine sales of trees to Indian growers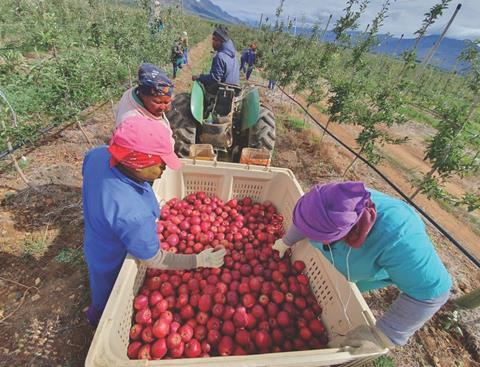 The owners of the Plant Breeder's Rights (PBR) to Bigbucks and the brand Flash Gala have warned that exports of trees of the extremely popular Gala-type apple from Southern Europe to India will be illegal if not handled via the ABCz nursery in Belgium, the global rights holders for the variety outside of Sub-Saharan Africa.
The ABCz nursery has already stated any export of Bigbucks trees to India will be illegal and that the trees sold will not be recognised as Bigbucks but will likely be some other Gala mutation.
Anthony Rawbone-Viljoen of leading South African apple and pear grower Oak Valley Estate – one of the holders of the (PBR) to Bigbucks and the brand Flash Gala – said there has been a flurry of interest in the Bigbucks variety and the brand under which it is sold in India during recent seasons since the fruit was first exported to India from South Africa.
"ABCz is currently following up on this matter. Historically, Indian growers have been importing and receiving rooted trees from EU countries for planting in that country, mainly from Italy," said Rawbone-Viljoen.
"There have been reports that some nurseries, reportedly Italian, have been, or are in the process of, exporting rooted Bigbucks trees to India."
In the interim, Indian company Seven Star Fruits has been authorised by ABCz and the owners to take the variety forward in India, he said, and certified Bigbucks plant material has been supplied to the company by ABCz for this purpose.
"Seven Star Fruits is part of the Mahyco Group in India and has a very solid reputation in that country," said Rawbone-Viljoen.
"The trademark Flash Gala use for Bigbucks has been registered in India by our company Pink Vein and the Bigbucks trademark has been filed for registration in that country and is pending.
"We are therefore of the view that we have appropriate cover for both the brand and the variety in India. We trust that the above information will clarify the current position regarding the Bigbucks variety in India," he concluded.
The variety and the Flash Gala brand have been actively promoted by South African exporters during the past three years, with exporter Tru-Cape leading the way. Recent reports from India indicate that it is again proving to be very popular with the Indian trade and consumers.