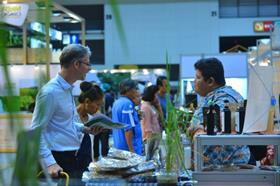 The second edition of BioFach South East Asia took place on 11-14 July at the Impact Exhibition Center in Bangkok, Thailand, alongside Natural Expo South East Asia, featuring 403 exhibitors from 14 countries.
The exhibition included various international pavilions, including for Vietnam, Myanmar and Germany, and attracted 24,196 visitors, a 14 per cent increase on the previous year that reflects the growing interest in organic food in South East Asia.
"The positive response from all participants confirms that we are on the right track," said Markus Reetz, executive director of international exhibitions at organiser NürnbergMesse, "so I am looking forward to our next steps in this market which holds lots of promise for the future."
Alongside the trade fair, the event hosted a comprehensive conference programme featuring speakers from 11 countries, the main themes being international organic issues and the organic sector in Thailand.