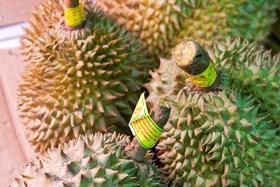 An improvised explosive device was found hidden in a box of durian being unloaded outside a hotel and restaurant on Saturday 5 October in Midsayap, North Cotabato in the Philippines, Inquirer News reports.
The box was being unloaded by a 42-year-old man, Abdulgani Malang Abas, who has been identified by Midsayap police chief Superintendent Renante delos Reyes as a suspect.
Abas was intercepted after civilians tipped off police, having seen wires protruding from underneath two durian fruits as he parked his motorcycle at 11:45am.
However Abas, when first confronted by these alert residents, reportedly appeared confused and startled by their queries.
He has subsequently claimed that the box was property of a woman who had hired him to drive her to Quezon Boulevard.
The unidentified woman reportedly left under the pretence of going to buy something from a store but failed to return, at which point Abas decided to unload her property and abandon it by the roadside.
It was at this point that he was noticed by residents.
The improvised bomb was constructed from a 60mm mortar shell, fitted with a timer to trigger it, according to Reyes.
Investigators have been reviewing CCTV footage to attempt to verify Abas' account of a female companion.
However, it looks as though Abas, who has now been identified as a member of the Bangsamoro Islamic Freedom Fighters, will have criminal cases brought against him.