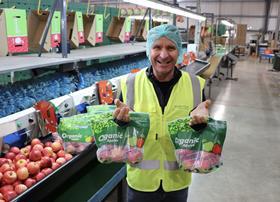 Bostock New Zealand has spent over 12 months developing what it believes to be the world's first certified home compostable zip-lock pouch bag for apples.
The bag is made from rice, potato and corn derivatives blended together. John Bostock, owner of Bostock New Zealand, said it took 12 months to develop a bag that was strong enough to hold 1kg of apples.
"One of the major challenges was the zip-lock on the bag," John Bostock explained. "We worked with a New Zealand company to find a converting facility in Germany that could accommodate the zip-lock, macro-perforations and gusset with a monolayer home compostable film."
The packaging is certified to Australasian, European and American composting standards. However, there is no official home compostable standard in New Zealand.In order to achieve international home composting accreditation, the bag must disintegrate in 90 days, and biodegrade within 180 days in a home compost environment.
"Finding sustainable packaging solutions is a real focus for our company as we move to reduce plastic where we can," John Bostock said.
The new pouch bag has been trialled in Countdown stores across New Zealand's North Island, along with selected supermarkets from the Foodstuffs retail group.
Bostock New Zealand has also launched a trial in Russia, where the company has been exporting organic apples for four years.
"Home compostable packaging is very new for fresh produce in Russia but Russian consumers are becoming more environmentally conscious and aware of sustainable packaging," said Vladimir Beliakov, Bostock New Zealand's Far East international market manager.
"We are already fielding inquiry from customers who want to stock the compostable apple bag, which is positive progress and shows that there is growing awareness amongst Russian consumers."
Lat year, Bostock New Zealand became the first apple exporter in the Southern Hemisphere to start using compostable fruit stickers on some of its apples. It has also been trialling other sustainable and compostable packaging options across its products, including home compostable wood fibre netting for its organic onions.
As part of Bostock New Zealand's drive to reduce plastic across its business, it has set up a dedicated internal team called Project Green. The team's initial goal has been to reduce waste sent to landfill by 50 per cent within three years.
However, this pledge comes at a price. The new home compostable apple pouch bag is at least three times more expensive than a plastic apple pouch bag.
"We need to make compostable packaging solutions more affordable, so they are financially sustainable for our business and others following the same path," said John Bostock. "This will also enable us to roll out more environmentally focused packaging."