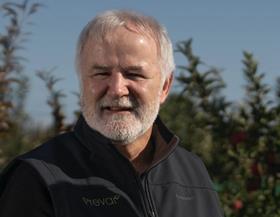 Pipfruit commercialisation specialist Prevar has announced chief executive Brett Ennis will be leaving his role.
Ennis started with Prevar when it was set up 15 years ago. He was tasked with commercialising new cultivars bred by New Zealand's Plant & Food Research and to deliver sustainable value to the New Zealand and Australian industries.
A range of leading branded apple varieties have been successfully commercialised under Ennis' leadership, including Lemonade, Smitten, Rockit, Dazzle, Cherish and Sweetie, along with the interspecific pear brand PiqaBoo.
"These now are rapidly gaining global consumer recognition, a testament to the successful enterprise Brett has led," Prevar chairman, Jim Mclean, said in a statement to the company's stakeholders.
"Brett is leaving having developed the company to the stage that Prevar has become assured of a successful future. We are grateful that Brett will be available to assist Prevar as required whilst the board seek a new chief executive and to take on project work as required.
"The Prevar board, shareholders and industry stakeholders extend their appreciation and gratitude to Brett for his significant contribution and leadership."