Expert panel at Asiafruit Business Forum to discuss key role of supply chain management in capitalising on export opportunities
With Asia's market demand for high-quality fresh produce continuing to grow, experts in fresh food production and distribution across Australia are refining their approach to supply chain management in anticipation of increased trade volumes, according to a media release from the International Fresh Produce Association Australia-New Zealand.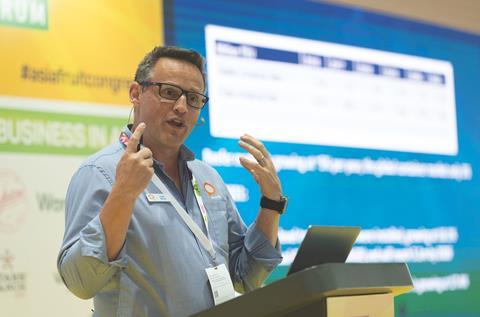 Key figures from across the Australian industry will share their views on supply chain best practice in the Asia market at Asiafruit Business Forum in Hong Kong next week.
The discussion on 7 September forms part of a series of education sessions presented by the International Fresh Produce Association at Asiafruit Business Forum, which takes place on the trade show floor at Asia Fruit Logistica on 6-8 September.
Facilitated by International Fresh Produce Association Australia-New Zealand managing director Ben Hoodless, the discussion on supply chain best practice will hear from Luke Wood, CEO of supply chain intelligence provider, Escavox; Michael Simonetta, CEO of leading Australian fresh produce grower-marketer Perfection Fresh; Noel Ainsworth, principal supply chain horticulturist at Queensland Department of Agriculture and Fisheries; and Martin Ferreyra, Australian trade commissioner and consul, South China and agribusiness sector lead, Greater China.
In the release, Hoodless said prominent food industry leaders, producers and supply chain partners were responding to the positive momentum behind Australia's export trade. He cited international carrier Cathay Pacific's decision to increase its number of weekly flights between Hong Kong and Brisbane by 50 per cent to cater for additional tourists and rising exports, providing an additional 50 tonnes of cargo space a week, according to the Queensland government.
"Australia's national horticulture R&D and marketing body, Hort Innovation, also announced this month it had secured A$130m to fund its Fresh and Secure Trade Alliance (FASTA), an initiative created to help protect and grow Australia's horticultural exports, especially in new lucrative markets," Hoodless said.
"The funding comes at a time of huge opportunity for fresh produce suppliers in our region, illustrated by successful trial shipments of Australian avocados to India in July stemming from the Australia-India Free Trade Agreement and the desire to diversify export markets as protection against future volatility."
Hoodless said new digital technology, identified in a recent IFPA Future Trends report as critical to relieving further pressure on food supply systems, was helping exporters sharpen their supply chain operations in a bid to deliver higher quality produce more consistently to consumers, whether in Australia or across the world.
Supply chain tracking technology from Australian data provider Escavox was on board the avocado shipments bound for India, conveying the conditions of the journey and their impact on the consigned produce back to its exporters in real time.
"Along every step of the journey, those with a stake in seeing those avocados arrive in optimum condition could see where their produce was located and whether it was too hot, too cold or exposed to too much light, humidity or movement," Wood said.
"The data collated on the journey also means the exporter and the importer, along with trade officials and regulators in both countries, have a verifiable, independent data profile that not only protects the integrity of the product but all parties in the transaction should something go wrong in the chain.
"After the disruption of Covid, many of the supply chain challenges felt globally haven't gone away, so in a sense many are using the digital tools at their disposal to strengthen their supply chains for when more demand and pressure comes their way."
Perfection's Simonetta said supply chain capability was crucial in the export channel. "It can greatly impact our product quality and our bottom line," he said. "Having the right access, systems, processes, and governance is key for us."
The International Fresh Produce Association presents a series of education sessions at Asiafruit Business Forum as part of the Partner Content Day on 7 September. View the full Asiafruit Business Forum programme here.