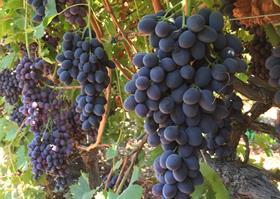 California's 2019 table grape season began slowly, thanks to an oversupply of Mexican grapes clogging the North American supply channels.
While the USDSA reported that supplies of Mexican fruit were "insufficient to quote" as of mid-July, hundreds of thousands of cartons were actually sitting unsold in Nogales (Arizona) coolrooms.
FOB prices for table grapes plunged during July and although there was fruit ready for picking in the southern San Joaquin Valley, many early blocks were passed over due to market conditions.
"The table grape volume out of Sonora (Mexico) was far higher than even the most robust pre-season estimates," said John Pandol of Pandol Bros in early July.
By August, the dust from Mexico's fiasco began to settle, allowing the San Joaquin table grape season to return to some kind of normalcy.
There was still concern that the retail sector would continue its snub of traditional varieties (Sugraone, Summer Royal) for new ones (Sugar Crunch, Sweet Sapphire) such as happened last season.
While that trend did continue, it soon became apparent that the 2019 San Joaquin deal was going to be down in volume from recent years.
In early October, the California Table Grape Commission revised its earlier seasonal estimate of 112.4m cartons (8.6kg) to 109m cartons, but many in the industry felt that figure might still be on the high side.
"It's doubtful that the deal will hit 109m cartons this year," said commercial inspector Todd Bassett. "We lost a fair amount of grapes at the beginning of the season because of all the problems with Mexico, but there's also a significant amount of mildew in the fruit this year and that's cutting back on the volume. I'm thinking this thing is closer to 100m."
John Harley of Anthony Vineyards agrees.
"We're in the backstretch (of the season) and I'm thinking we'll be lucky to hit 100m cartons," Harley said. "Not everyone remembers that we had the wettest May in the history of the San Joaquin Valley and you're seeing the mildew issues now because of it."
Brian Crettol of Jasmine Vineyards predicts the season will wind down early.
"There won't be as many green grapes as usual; plus, a lot of acreage of old varieties was 'pulled' last winter. Around 105m cartons feels right to me," Crettol said.
Less fruit in a given season can change a difficult season into an acceptable one fairly quickly and that appears to be what has happened in the last several weeks for California table grapes.
"It's a pretty healthy deal," noted Bassett. "The quality issues are manageable and arrivals in export markets have really been fantastic."
That fact is reflected in the market as FOB prices are running far higher than a year ago.
"Export (quality) green grapes are going anywhere from US$23 to US$25 per carton FOB, compared to US$18 at most this time last year," said Bassett.
"Black varieties are selling out at US$22 and although Scarlet Royals are running around US$18, they're selling out as well – which is a surprise."
This article appeared in the November edition of Asiafruit Magazine, out now.