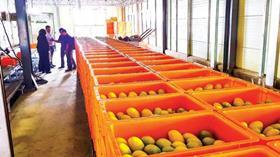 Cambodia and Korea have concluded FTA negotiations putting the Cambodian mango industry one step closer to improving access.
On 3 February Korea's trade minister Yoo Myung-hee and her Cambodian counterpart Pan Sorasakmet virtually to sign a declaration that the two countries had reached an agreement.
Negotiations between Korea and Cambodia first began in July 2020, and while the FTA still has to be ratified by their respective parliaments before it enters into effect, the seven months represent the shortest negotiating period for a Korean FTA.
This progress comes as welcome news for Cambodia's mango industry, which has signalled its intention to grow exports to Korea. The first shipment of mangoes was sent to Korea in 2020 and the fruit was reportedly well received.
According to a report from the Phnom Penh Post, Cambodia's minister of agriculture, forestry and fisheries Veng Sakhonsaid 77 tonnes of mangoes were shipped to Korea in 2020.
However, Sakhon said companies such as Hyundai Agro (Cambodia) – which plans to export 1,000 tonnesof mango to Korea in 2021 – are ready to significantly increase export volumes.
Mao Sothea, sales manager of mango exporter Kirirom Food Product, said Korea would become a key market.
"The Cambodia-Korea bilateral free trade agreement coming into force will only engorge the market for Cambodia," Sothea said.