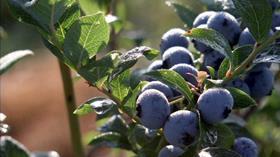 Canada's British Colombia blueberry season is getting underway several weeks later than in 2016, due to some inclement spring weather and a cool start to the summer, growers report.
Although packouts have increased on average around 6.5 per cent the last two years, with a record 77,000 tonnes shipped in 2016, this year's production is anticipated to be down somewhat in volume due to the pre-season weather.
Berry sizing is also expected to be slightly smaller in diameter compared to last year, which may be responsible for the reduced packout. However, fruit quality is reported to be excellent.
"We're starting with our first ocean shipments to Asia tomorrow; fruit quality is quite strong at the moment," Rick Chong of Sutherland Produce said on 21 July.
Weather permitting, Chong expects the British Columbia harvest to run through mid-September, with shipments continuing with storage fruit well into October.
In the last two years, British Columbia gained market access for its fruit in both China and South Korea. According to the British Columbia Blueberry Council (BCBC), approximately 3m lb (1,361 tonnes) were shipped to the Chinese mainland in 2016, which was the first full season of exporting to that country following up on trial shipments the year before.
The BCBC anticipates that the Chinese market could be a CA$65m market in future seasons. No shipment data from 2016 were available for the South Korean market.
Grown predominantly in the Fraser Valley near Vancouver, British Columbia's 700-plus growers produce approximately 96 per cent of Canada's highbush blueberries annually on 11,000ha, making it the country's largest fruit export.