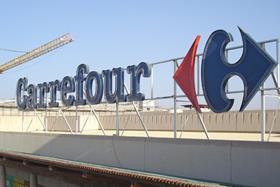 French retailer Carrefour looks set to follow its rival Tesco in seeking to penetrate India's lucrative multi-brand retail market, according to a report by Inside Retail Asia.
The UK retail giant recently partnered with local business Trent, the retail arm of Indian multinational conglomerate Tata Group, in a joint venture to operate multi-brand stores.
The partnership has seen Tesco make an initial investment of US$110m to open supermarkets in Maharashtra and Karnataka.
Carrefour's Indian subsidiary Carrefour WC&C India currently operates five wholesale stores in the country.
The French retailer recently invested US$35m in expanding its cash and carry business through this subsidiary.
This cash injection is a significant move by Carrefour, which has been cautious in developing its business in India.
Since it entered the market in 2010, the company has opened just one store annually on average.
Despite its cautious strategy, Carrefour incurred a loss of US$17m in 2012.
While India's foreign direct investment (FDI) regulations allow the French retailer to hold up to 51 per cent in a joint venture, Delhi's recent decision to ban FDI in multi-brand retail means that Carrefour won't be able to capitalise on opportunities in the capital.