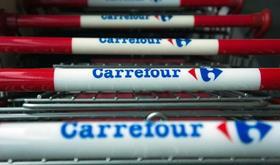 Carrefour is planning to sell its Taiwan business which is valued at €1.6bn (US$1.9bn), according to a report from Reuters.
The report said the French multinational retailer has hired Morgan Stanley to run the sale, which is expected to commence after the end of summer (August 2021).
Reuters sources said Carrefour has approached a number of potential buyers including private equity firms.
This move comes just after Carrefour completed the purchase of Wellcome Taiwan in December 2020 for €97m. This included the acquisition of 224 stores and a warehouse.
Carrefour currently operates 354 stores in Taiwan comprising of 66 hypermarkets and 287 convenience stores.
In the first half of 2021 it reported net sales of €1.26bn in Taiwan, up 33 per cent year-on-year at constant exchange rates, with the newly acquired Wellcome stores performing well.