Tops Food Hall Sukhumvit 39 targets premium consumers offering expansive imported fruits range
Central Retail has unveiled Tops Food Hall Sukhumvit 39, a new store format targeting the premium end of the market in Thailand.
The Bt150m (US$42m), two-story building covers an area of 4,800m² and is located in the downtown area of Bangkok among a high-end consumer base.
Stephane Coum, chief executive of Central Food Retail under Central Retail, said the new store will meet the high expectations of its customers.
"Today, people lead many different lifestyles, so the most important thing to our business is to never stop ensuring that our products and services cater to their needs and exceed their expectations," said Coum.
"To reaffirm our leadership position and to spice up the competitive food retail market in Thailand, we are launching a new retail store, "Tops Food Hall" Sukhumvit 39, which is the first world-class premium food store in a standalone format.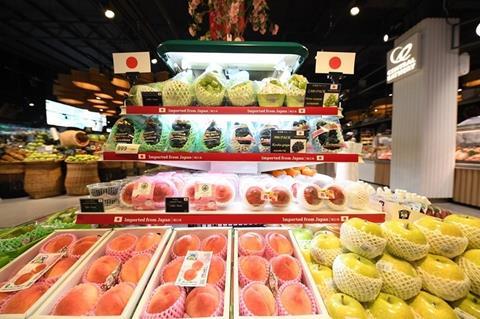 The concept is 'Premium Food Experience from the World', and we choose Sukhumvit 39, which is a prime downtown area where high-end Thai and foreign consumers live, particularly Japanese expats. This will be a new home for Sukhumvit residents and it will cater to all their high-end lifestyle needs: working, dining, relaxing and shopping."
The store has an extensive range with 28,000 items to choose from. Shoppers will have access to a wide array of imported products, especially from Japan plus fresh local and imported fruits from around the world throughout the season.