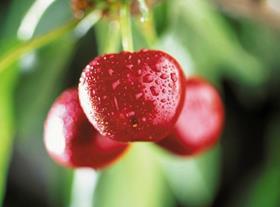 Chile's record US$5m cherry marketing campaign in China helped deliver a 20 per cent increase in sales this season, according to Asoex.
At an industry meeting last week it was revealed that weekly spending on Chilean cherries in cities targeted by the campaign was run grew 27 per cent to US$15.5 compared to other cities.
Under the slogan "Enjoy your red moment", this year's marketing campaign in China sought to encourage the consumption of cherries at any time and for any occasion – with family, friends, or alone, while highlighting the fruit's health attributes.
The 2017/18 campaign was extended from 35 to 64 cities and drew in 18m new consumers.
'This was a record export season, with more than 186,000 tonnes sent to the world, an increase of more than 96 per cent in relation to the previous season," said Asoex president Ronald Bown.
China consolidated its position as the leading destination, receiving 161,679 tonnes of total shipments, an increase of 108 per cent on the previous season.
With shipments projected to double again within the next five years, Bown said investments in promotional programmes would continue to underpin export growth in the years ahead.
"The current growth in the production and exports of cherries, and the increase that is foreseen in the future, as well as the positive results achieved during this promotional campaign, show that promotional activities are fundamental to enhance the knowledge of our fruit, and to influence greater consumption and the addition of new consumers, all in order to accelerate the sale of these fruits before, during and after the Chinese New Year," he noted.
Chilean Cherry Committee president Cristián Tagle added that strengthening competition from other suppliers meant Chile must continue working to improve the quality of its offer and maintain its reputation as a premium supplier in the eyes of consumers.
Meanwhile, delegates at the inaugural Global Cherry Summit being held in Chile this week heard from industry experts that the explosion in Chilean cherry production is exerting mounting pressure on both local resources and the market.
Packhouses are already operating at full capacity during the peak harvesting period, while prices on the Chinese market were below levels seen in previous seasons.