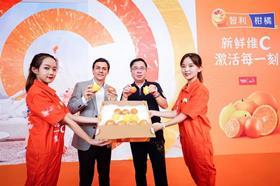 The Chilean Citrus Committee of the Chilean Fruit Exporters Association (Asoex) has celebrated the launch of the first season of citrus imports into China with a ceremony at Jiaxing Haiguangxing Market.
The ceremony,attended by representatives from Chile and China,was the first promotional event staged in China for Chilean citrus since it officially gained market access.
Charif Christian Carvajal, Asoex's marketing director for Europe and Asia, was one of the virtual attendants of the event and shared his hopes for the new relationship via video.
"In 2019, Chile exported 334,000 tonnes of fresh citrus globally," said Carvajal.
"Chile has quite a few advantages in supplying citrus to the Chinese market, including for example the fact that we are the Southern Hemispheres second largest exporter of citrus, we have a long and stable season from May to November, a Mediterranean climate ideal for growing delicious citrus with a distinctive colour, flavour, firmness and aroma and in the case of China, we do not need to perform cold treatment on our product."
Xu Zheng, general manager of Jiaxing Haiguangxing Premium Fruits Market, also spoke and noted the development Jiaxing market and its recovery post-Covid-19 with transaction value increasing 10.27 per cent year-on-year and transaction volume up 13.12 per cent.
"Now that Chilean citrus has been granted import access to China, it means Jiaxing Market will add a new category of high-quality fruit," Xu said.
One of the highlights of the event was the delivery of Chilean citrus to centre stage with a drone, mean to represent high expectations and blessings for the Chinese market, borne across the sea by Chilean citrus.
The ceremony was followed by an educational workshop on Chilean citrus for fresh fruit traders at Jiaxing Haiguangxing Market.