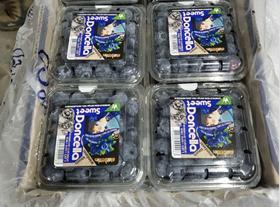 Indian importer IG International is working to grow sales of Chilean blueberries, with health-conscious consumers in urban areas its primary target audience.
The Mumbai-based company recently received its first consignment of Chilean blueberries for the 2020 season. It hopes to import 80 tonnes of the fruit over the course of the campaign.
The blueberries will be marketed at Foodhall, Nature's Basket and Star Bazaar outlets, along with thenew IG e-commerce platform.
Tarun Arora, director of IG International, said first-tier cities like Mumbai, Delhi, Bangalore, Ahmedabad, Kolkata, Hyderabad and Cochin would be the focus of the sales campaign.
"It is so amazing to see that this superfood is acquiring a larger audience every season, especially among the Indian urban customers," explained Arora.
"IG International is known to abide by its motto, which is to strive until we provide the best. Chile blueberries are simply among the best in the world.
"It feels great to have received the first shipment of this 2020 season. These sweet and exclusive blueberries will surely tantalise Indian taste buds and we are expecting a surge in sales this season after this shipment from Chile.'
The first consignment of the 2020 season was shipped by Exportadora Reina Sur, a grower-exporter that handles cherries, table grapes and stonefruit, in addition to blueberries.
"We are really happy to start trading blueberries with India," said Federico Casas, export manager of Exportadora Reina Sur. "We are expecting a great response from the customers and we hope to keep growing with all of our products and especially with the blues.'
Hugo Salvestrini, director of Pro Chile's office in Delhi, has high hopes for the season ahead.
'It is so good to see a trade happening between the two countries," explained Salvestrini. "We are hoping for a great response from the Indian customers. We are also expecting a rise in sales compared to the previous seasons because of its increasing popularity and high demands.'