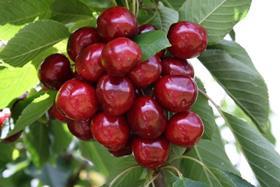 Chile has commenced its 2019/20 cherry export campaign with its first sea freight shipment leaving for China on 13 November.
These cherries will be transported on the 'Cherry Express' Hapag-Lloyd service, a direct connection route between Valparaiso and Hong Kong. The ship is expected to arrive in Hong Kong on 5 December after a 22-day transit.
The Chilean cherry industry had originally forecast an earlier start to the season, but cooler temperatures in recent weeks resulted in a slower flow of fruit than planned, causing some ships to be postponed.
In this early stage of the season, exports to China will start with one fast vessel per week.
On 15 October, the ASOEX Chilean Cherry Committee released its first export projection of 41.8m boxes (5kg), which is equivalent to 209,000 tonnes.
This represents a 16.1 per cent increase over the 2018/19 season.