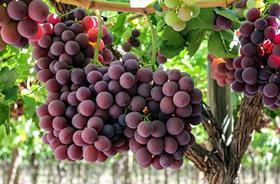 Chile exported 2.39m tonnes of fresh fruit from January through October 2020, a 5 per cent decrease year-on-year, according to the Office of Agrarian Studies and Policies (ODEPA). The overall value of fresh fruit exports also dropped in the first ten months of 2020, falling by 10 per cent to US$4.14bn.
Chile's fruit exports were led by table grapes, with approximately 700,000 tonnes shipped, worth US$1.01bn, according to ODEPA.
Table grape exports were down 7 per cent in volume, and 17 per cent in value, compared to the same period last year. The US (47 per cent) and China (16 per cent) were the two biggest destinations.

Meanwhile, Chile shipped 145,000 tonnes of cherries in the ten-month-period, valued at US$954m. This represented a 6 per cent increase in volume year-on-year, however, value dropped by 7 per cent. China absorbed the lion's share of exports, accounting for 94 per cent of all shipments.