Chinese importers cautiously optimistic about prospects for US cherries, as major cities gradually come out of lockdown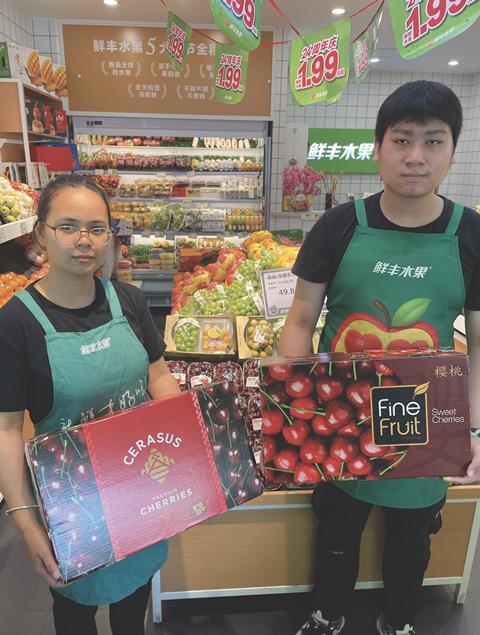 Despite the evident challenges facing US cherry imports this season, the Chinese trade is not writing the product off.
"It will still be a focus for us this year," said Owen Ou, general manager of leading Chinese fruit importer, Riverking. "Cherries are a key part of our business, and North American fruit fills a particular market window for imported cherries."
Giddings Fruit has been importing US cherries to China for a number of years through its Shanghai office. This year it is looking to import a similar volume.
"We will be importing around 100 containers from the US to Asia this season. Last year we had a similar volume as well," said Gonzalo Matamala, Asia & PRC general manager at Giddings Fruit Shanghai office.
Nonetheless, Matamala noted the high retaliatory tariff still placed on US cherries might be an even bigger challenge this year, and Giddings plans to divert some of the volume to neighbouring South-East Asian markets.
"It is a bit worrying as the willingness to pay a premium for imported fruit might be affected in China due to the downturn of the economy," he argued. "In that sense, the high tariff will undoubtedly have an impact this season."
There is reason for optimism, however, as Shanghai and other Chinese cities begin to ease their lockdown measures.
"Thankfully the peak of our supply will be in July. Shanghai is gradually opening up now, so market demand should have recovered somewhat by then," Ou said.
Frutacloud received its first airfreight shipment of Northwest cherries at Guangzhou's Jiangnan market on 16 June. In a statement on its WeChat account, the company reported good arrival quality on the consignment of Chelan cherries. Frutacloud said peak arrivals of Northwest cherries would come in July and August.
Despite the challenges facing Northwest cherries in China this year, the company said China remained a very important market for its US suppliers and affirmed it was fully committed to its long-term partners.
"Although the epidemic situation is still severe, Frutacloud will send specialists to the production area. Our team members have arrived in the US successfully to ensure the quality and stability of supply," said Frutacloud. "It will be required that each batch must be sterilised and other related pandemic prevention steps are taken before departure from the origin and after arriving at the destination to ensure the food safety on the consumer side is flawless."
Both Riverking and Giddings Fruit agree efficient distribution and collaboration with clients are very important to deliver a successful campaign.
"We work hand-in-hand with Chinese retailers and importers in order to provide US cherries with consistent quality," said Matamala. "One thing we learned during the pandemic is that distribution channels are crucial to move our fruit, so we will focus on that to ensure the movement of goods."
For the same reason, Riverking will prioritise retail channels this season. "We are distributing to JD.com, Freshippo and the likes," Ou said. "For US cherries, retail channels take on more importance because we want to ensure the cherries stay entirely in a cold chain environment until they reach consumers. So wholesale markets will see less fruit this season."
This article is from the June edition of Asiafruit Magazine, which includes a special feature on cherries. The issue is available on the Asiafruit app on Apple and Android or contact subscriptions to order your copy at subscriptions@fruitnet.com