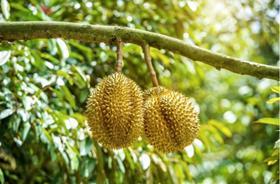 Thailand's Department of International Trade Promotion has organised a festival to be held across eight Chinese cities to promote Thai fruit imports.
According to a report from The Nation Thailand, the Thailand Fruit Golden Months Festival is targeting Chinese consumers as the country's lockdown begins to ease.
Somdet Susomboon, director-generalof the Department of International Trade Promotion, said the festival will runfrom May to July in Shanghai, Qingdao, Nanning, Chengdu, Chongqing, Xian, Xiamen and Kunming.
"The campaign aims to increase the export of durian, mangosteen, longan, coconut, mango, rose apple, pomelo and banana," Susomboon told The Nation Thailand.
The festival will be held online and offline with the support of retailers and local authorities.
"For offline activities, sales booths will be set up at leading department stores in each city such as Hisense Plaza, Leader, Ole, Yuehui Plaza, Carrefour, Lotus and Parkson," said Susomboon.
"As for online activities, the department and the local authority will jointly host the online business matching from May onwards to invite Chinese retailers to order Thai fruits online to sell in their stores as well as hold promotional campaigns with Chinese mobile applications such as Geso and Hema to increase sales."
Susomboon said these kinds of promotional efforts will also be held in other markets such as Singapore, Myanmar and Laos once their lockdowns end.
Asiafruit is now available to read on your phone or tablet via our new app. Download it today via theApp StoreorGoogle Playand receive a two-week free trial along with access to previous editions.